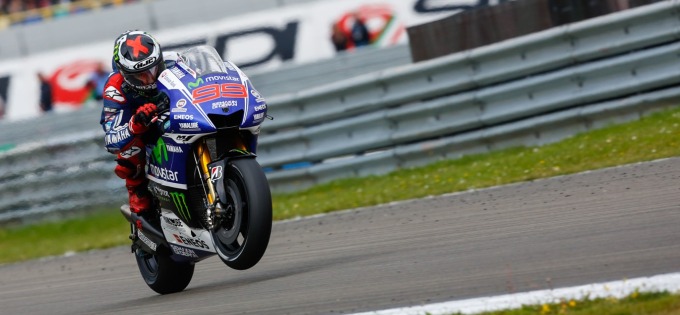 Former MotoGP World Champion Jorge Lorenzo has publicly apologised after his disappointing thirteenth place during the Dutch TT admitting he was scared to take the risks required.
The Mallorcan had qualified down in ninth position, but had managed to rise to as high as sixth position before he was came in to switch to the slick tyres on his second bike. He waited a couple of laps longer than the majority of the field to make the switch, and that saw him plunge down the order, forcing him to take risks if he wanted to climb back through the field. Risks he wasn't willing to take after last years accident.
Lorenzo admitted he was happy in the fully wet conditions, and happy in the fully dry conditions, however he lost all confidence and became 'scared' of the bike in the slightly damp conditions whilst on the cold slick tyres, which saw him drop right down to seventeenth position behind the likes of Danilo Petrucci and Hiro Aoyama.
Last season Jorge Lorenzo suffered a broken collar bone when he had a violent, fast highside during a soaked Thursday practice, before heading home for surgery and returning to race, finishing in fifth position, just two days later.
"It has probably been my worst race in MotoGP. The worst finishing positions," said a brutally frank Lorenzo, speaking after the TT in Assen.
"The bike worked well in the wet. The bike also worked well in the dry. But I was not confident enough. I was just scared at this track. When I saw the rain spitting in some corners I just didn't want to take risks. 

"So today has been 100 percent my fault. I was to apologise to the team, the people that work with me and the fans because I was unable to be brave, to be fast in these track conditions like the other riders."
Lorenzo came through the lower field late in the race, managing to get into the points and up to thirteenth place, posting his fastest lap of the race on his penultimate lap of the race. 

"It was a pity. In the dry we were competitive, but in these conditions it was my fault. Not being brave and not being competitive. Last year I made something impossible, this year was the opposite. I was the more scared rider. 

"When I saw some spitting in some corners on the dry tyres I just didn't want to take the risk to crash again and be injured again at this track. Probably the memory of last year was making me too cautious of the risks and too afraid to be fast. Every time I saw the spitting and felt the bike move a bit I got some flashbacks. In the last laps when it stopped spitting my performance was more acceptable, but not before. 

"I've won races where you change the bike, but we don't have many races in conditions like this, with rain on slicks. Today I was too scared. You have to admit it, accept it and try to find out why. Luckily these conditions don't happen often."
The race in Assen summed up Lorenzo's season thus far, as he sits in fifth position in the World Championship, ten points behind Andrea Dovizioso and only 14 ahead of Aleix Espargaro on the open Yamaha. With no contract confirmed yet for 2015, Jorge Lorenzo will be hoping to get his season back on track sooner rather than later.